It is time to breathe the cleanest air in Poland, relax by a quiet, beautiful lake far away from the road, reach the state of bliss at our SPA, indulge in healthy food and sleep like a baby!
In order to remove permanent stress, but also to prevent it, we have prepared a special Anti-Stress Package. It is an ideal solution for those who want to cleanse their body and soul in a short time.
Stress is the body's immediate response to factors which disturb its natural equilibrium. When it is moderate, it mobilizes us, when it is permanent – it ruins our health. How do you assess your stress level? Take good care of yourself and your loved ones before it affects you.
Relax for a few days in Wild Masuria, and you will feel the effects of regeneration long after you return home.
The Anti-Stress Package guarantees:
Peace, quiet, relax, regeneration and disappearing mobile signal 😉
Overnight stays (minimum of 2 nights) in stylish rooms of the Grange or the Old Granary, with comfortable beds and starched bed linen (book early – choose a room with a soothing view)
Meals served at our restaurant with a terrace overlooking the lake: breakfasts made of regional, fresh products (8–10 AM) and delicious dinners with a choice of dishes and home-made cake (5–7 PM)
Herbal infusion from local plants, including mint and lemon balm infusion
Unlimited use of a steam sauna, hot hammam and a sensations shower (during SPA opening hours; prior booking is necessary)
Relaxing jacuzzi sessions with massaging jets (in the garden overlooking the lake)
Wonderfully relaxing body treatments: On the first day – relaxation massage (50 minutes), on the second day – foot scrub with paraffin treatment and foot massage,
In the case of stays of more than 2 nights [there are vouchers of PLN 120 to be used per each day of stay per person (treatments are chosen in advance or after arrival)
Gym and exercise room at your disposal
Wi-Fi
Free CCTV-surveilled parking
10% discount on all SPA treatments (apart from treatments included in the package)
10% discount on renting Russian Banya for 2 hours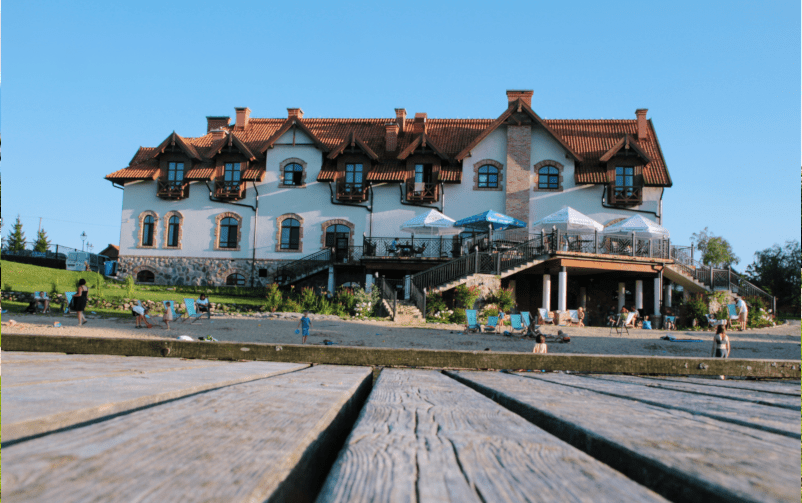 Folwark Łękuk
from PLN 630
Double/Twin Room
price for 1 person / 2 nights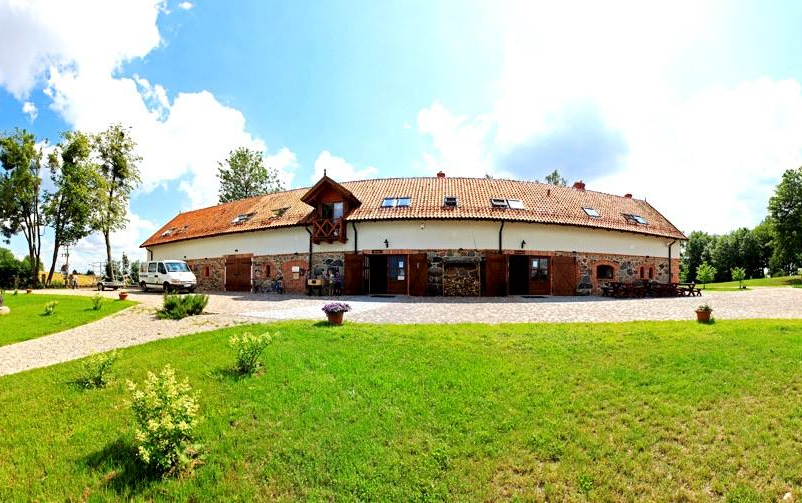 Stary Spichlerz
from PLN 618
Double/Twin Room
price for 1 person / 2 nights
Detailed pricelist, extra charges for rooms and additional information
Prices in low season (from September 1, 2019 to April 28, 2020 and from October 1 to December 20, 2020):
PLN 630 / person / 2-bed room (The Grange)
PLN 618 / person / 2-bed room (The Old Granary)
Prices in the shoulder season (from April 29 to July 4, 2020 and from September 1 to September 30, 2020):
PLN 669 / person / 2-bed room (The Grange)
PLN 649 / person / 2-bed room (The Old Granary)
Note – lower prices on weekdays: from Sunday to Thursday packages are 10% off!
The minimum stay is 2 nights. Your stay begins with dinner and ends with breakfast.
A 5% discount applies if you book 3 nights or more.
The package is available until December 22, 2019 (apart from Christmas, New Year's Eve, Easter and long weekends).
If you stay in the Golfer Suite, Delja Suite or Fisherman Suite, there is an additional charge of 10% for the entire package plus under-occupancy charge.
Forest Manager Suite: 15% additional charge plus under-occupancy charge.
Extra charge to a 2-bed room for single occupancy: PLN 60 / person / night.
Extra charge for a single room: PLN 30 / person / night.
Babysitter services cost PLN 50/h (booking at least 3 days in advance).
If there are fewer people staying in the room than beds, there is an extra charge for the unused bed.
Additional attractions (extra charge):
To make your relax complete, we also invite you to book sessions in the Russian Banya with a "whipping" (birch massage) ritual More: Russian Banya.
Additional options for groups of over 6 persons:
Physical activities – fitness, dance 1 h (PLN 25/person)
Relaxation workshops 1 h (PLN 25/person)
For quick booking call or e-mail us at:
Phone: +48 600 931 848
Phone: +48 (87) 428 40 59
recepcja@lekuk.pl